Understanding Costa Rica Crowns – Zirconia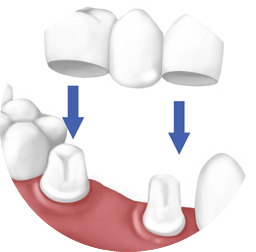 In Costa Rica, dental crowns are treatments that serve aesthetic and therapeutic purposes; they consist of a kind of sleeve-shaped tooth designed to be placed on a patient's natural tooth. In other words, a dental crown is a "new tooth" that fits over the natural tooth. Dental crowns have some similarities with dental veneers, but they are two very different treatments.
Costa Rica crowns are cosmetic treatments to an extent because they visually replace the patient's natural teeth, but unlike veneers, they also have a therapeutic function because they strengthen the underlying tooth.
Often, dental crowns are used especially in the posterior teeth -in the premolars and molars- since they are most commonly used in chewing and therefore more exposed to wear.
Costa Rica crowns can be made from various materials, but the most common are porcelain, metal, and zirconium (zirconia) .
How are dental crowns attached?
A dental crown is a hollow device that serves to lock in a natural tooth. So that the crown can fit over the natural tooth, it is necessary to reduce its size.
In the process of placing the crown, dentists will administer local anesthesia in the area and proceed to file the tooth until it is downsized enough, measurements are then taken to make a specific dental crown for that tooth. Once fabricated and prepped, the crown is tightly fixed to the tooth and the dental tourist can forget about wearing a temporary crown and using the new tooth.
Why Crowns Are Better Than Veneers in Costa Rica
A dental crown has the same cosmetic effects as dental veneers in Costa Rica, but they can also be used for other more functional purposes such as:
To strengthen teeth: If a tooth is too weak or too small, the use of veneers would not be appropriate since they only cover part of the tooth and have limited usefulness. The dental crown is an ideal treatment for patients who wish to have a real tooth that is stronger and more aesthetic.
To cover missing teeth: If a patient has a very large gaps between teeth due to dental loss, it is possible to recover the lost teeth by placing dental implants and subsequently crowns. Lost teeth can be restored with a "triple crown" (a dental bridge) placed over teeth that or other implants if necessary.
The cost of dental crowns in Costa Rica can be adjusted to the budget and needs of the patient. In some cases, they can be combined with veneers and implants.
Crowns, like dental veneers, are classified according to the material. We can mainly find five types of crowns:
Metal: They are made exclusively with alloys, which has the advantage that of being the most resistant to wear. Since they do not look very natural, they are often placed in the posterior teeth.
Metal-Porcelain: These crowns are made by fusing porcelain to metal, so they are like metal crowns with a layer similar to porcelain veneers. This makes them more aesthetic, but have a disadvantage that they not as strong and can break or chip away with use. Another drawback is that they can leave a small metallic color line between the tooth and gum, especially if the gum itself shifts over time, leaving more tooth visible.
Porcelain is more natural but less resistant than alloy crowns. Porcelain crowns are used almost exclusively in the front teeth, which have more aesthetic needs and are not involved in chewing as much as the molars and premolars.
Zirconia (or zirconium): This is without a doubt the best material for dental crowns. Zirconia offers results that are both aesthetic and resistant.
Composite: This is a lower cost option. A dental crown can be made with the resin composite of fillings similarly to the composite that veneers are made of, but covering the entire tooth. They are less resistant and more prone to wear, so they are considered to be a temporary option until the patient can get other crowns.